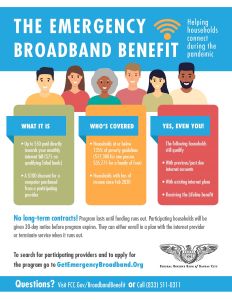 On Wednesday, May 12, low-income families can begin applying for the Emergency Broadband Benefit through the FCC, to help cover the cost of their broadband service and the purchase of a new laptop, desktop or tablet. To be eligible, a family must meet at least one of the following:
The household suffered a substantial loss of income since the start of the pandemic emergency, set at Feb. 29, 2020. Persons filing under this provision must have 2020 income of less than $99,000 for single tax filers and $198,000 for joint filers.
The household's income is less than 135% of the federal poverty level, currently $35,775 for a family of four.
For more information, visit the links below.
https://www.fcc.gov/emergency-broadband-benefit-outreach-toolkit
https://www.digitalinclusion.org/emergency-broadband-benefit/
https://www.fcc.gov/emergency-broadband-benefit-providers
https://getemergencybroadband.org/how-to-apply/show-you-qualify/